.

I love wreaths ...
They look fabulous on doors and gates, hung over the fireplace or sideboard, laid flat as a centerpiece filled with candles, or adorning your favorite armoire.  Mini wreaths are fun, too.  Try them slipped over a small lampshade, around the base of a pillar candle, or hung from the knobs and handles of cabinets and drawers.
Here are a few wreaths that would be wonderful for Thanksgiving, indoors or out.  Most of these can be purchased online, or you can use them as inspiration for making something uniquely yours.  Each wreath has a website credit beneath the photo.
Tomorrow and Thursday, I'll be sharing Thanksgiving tabletop ideas, including placesettings, menus, and nametags.  I'd love to see your ideas for decorating a Thanksgiving table, so please feel free to post a link in the comments section and I'll come take a look.
While you're here, don't forget to download a free copy of my cookbook.
FREE COOKBOOK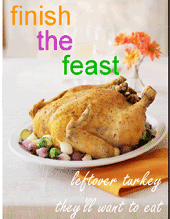 a gift from me to you
click here for download info